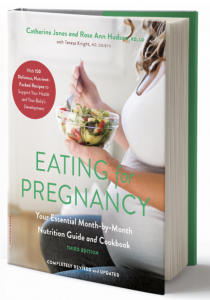 Hello everyone,
The team behind Eating for Pregnancy sent me a copy to review. Catherine Jones, Rose Ann Hudson, RD, LD, and Dr. Teresa Knight have put together a handy month-by-month guide. Here's what I think!
More cookbook than nutrition guide, I like this for the quick and simple nutrition sound bytes they offer to those who are expecting.
Especially during pregnancy, I tend to overanalyze, worry, and get all hopped up on control concerning food. Frankly, this kind of stress has done my pregnancies more harm than good.
I see similar concerns in the couples at the birth center and in prenatal classes. "Can I eat lunch meat?" or "I can't give up ice cream. Is it going to give the baby diabetes?"
Eating healthily during pregnancy is important for you and the baby. It's also an easy time to make changes for the better because you have a good reason to do it. People who had trouble giving up smoking find it easier to do when they have a baby on the way. It's the same for making changes to your diet.
If there's anything you want to change, this is a great time to turn over a new leaf! And the recipes in Eating for Pregnancy make it easier.
The book is divided into months. For each month, there's a few sections of information. All are brief, bullet-pointed, and positive.
Your baby's development this month
Changes in your body this month
Ideal nutrition focus for this month based on the needs of your baby and body
A list of optimal foods to meet these needs
Recipes especially suited to those needs: breakfast, lunch, dinner, and snacks
While the recipes are in order from first trimester to postpartum, you can of course eat any of the dishes at any time. Some recipes that I love:
Ginger-Mint Smoother for morning sickness (Also: recipes for my two absolute favorite smoothies.)
Perfect Homemade Granola (very customizable)
Best-Ever Tabbouleh Salad (I'm a HUGE tabbouleh fan, especially in the summer)
Capellini with Fresh Tomatoes + Goat Cheese
Sheet Pan Roasted Chicken Dinner
Great Green Broccoli-Spinach Soup (excellent especially if you have a hard time getting greens in!)
Carrot Cake (Healthy cake haha! Reduce the 1c. sugar if you're up for it.
Some of these may become family favorites!
Tips for reducing sugar in pregnancy
I appreciate the lack of alarm this book conveys. Many pregnancy nutrition write-ups, while certainly well-intentioned, thoroughly researched, and honest, feel unsettling. This book is relatively free of warnings and the kinds of sentences that put me on edge and in control mode.
Pregnancy should be a time of nourishing love. Food can do this, and wholesome food certainly does it more reliably. Find some delicious recipes to get yourself started!