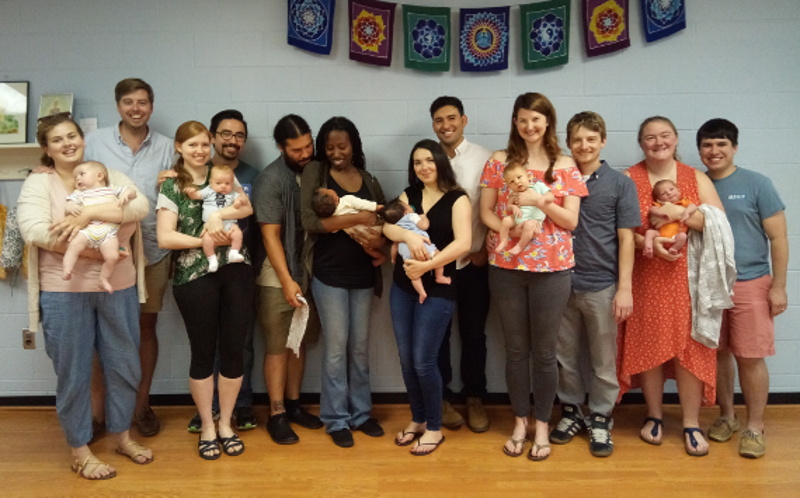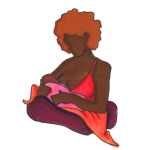 Without this class, I don't think I could have had a natural birth.Angela S.
"Wild Weekend" Natural Birth Class
 $260 
Join 1-3 other couples for this fast and fun prenatal weekend consisting of a Friday night and the next Saturday class & lab.  We discuss the basics of how babies are born, what labor is like for both of you, and begin to develop birthing skills. We'll cover hands-on comfort measures, breathing, and self-hypnosis as well as how the partner can help. Learn about the choices you'll have and how to navigate the intensity of labor.
Birth is a big deal. Let's get both of you ready–body, mind, and soul.
The science behind normal birth
Getting to know your mama hormones
Training in relaxation + comfort measures
Hands on practice
Support, tips, and confidence for partners
Your choices in childbirth
Reference folder and handouts
Phone & email support as needed
No classes scheduled at this time, sorry.
 Big Birth Class
6 weeks, 3 hours each night. The comprehensive big class covers everything for couples who hope for birth free of intervention, from pregnancy nutrition to those first hours with baby. Classes include active practice for both partners, emotional and physical preparation for the intensity of birth, comprehensive education on the science of birth and your choices in maternity care, take-home resources, and postpartum prep. Fun and friends always included. Add on the baby care and parenting class for only $25 (50% off).
Birth is a big deal. Let's get both of you ready–body, mind, and soul.
Due too soon? Contact me about private classes!
Exercise for healthy pregnancy and easier birth
Nutrition for healthy pregnancy and easier birth
Choosing the best care provider for your needs
The science behind normal birth
Getting to know your mama hormones
Training in relaxation, hypnosis & comfort measures
More hands-on practice
Support, tips, and confidence for partners
Help navigating interventions
Take home folder and graphic resources
Phone & email support as needed
No classes scheduled at this time, sorry!
The class helped my mild mannered, quiet husband become this powerful Papa Bear that was my voice when all I wanted to do was listen to my body and birth my son. I'll say it a thousand times, this class was one of the reasons that we both felt comfortable and calm during the whole labor process.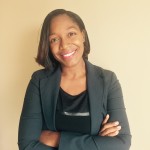 Kayla Solinsky
The class has given me a lot more confidence about what to expect and I feel like I'll be able to handle a natural birth. But I also feel like if I do end up needing interventions, I'll know whether or not I actually need them and will be able to have peace with whatever birth experience I end up having.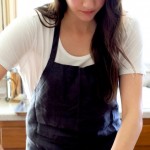 Courtney B.
Lauren's class was fantastic. Her perspective and optimism on the business of having a baby was very refreshing and motivating. Lauren is able to present a ton of information, very clearly, and from different perspectives allowing you to form your own opinions. We'll be back for the next one.
Awesome Private Birth Classes


$120/2h session



We'll meet at my studio in Bowie or online 1-3 times and supplement with calls, emails, and chats until after the birth.
You still get the knowledge you need and the support you deserve.
Fill out the registration form to ask questions or schedule a session.
Scheduling Options:
Not scheduling until 2024, sorry!
discounts for teachers, military, vbac, and clients needing financial support
Baby Care + Early Parenting Class


 $50/couple 



This one-night add-on class will cover the basics of infant care, techniques to make those early days of parenting easier, and preparation for life with baby.
Diapers, how-to
Cloth diapers
How to help a crying baby
Baby sleep tips and topics
Breastfeeding tips
How to work together as parents
Get all your questions answered
Refresher Course:
If you have had a birth class before but would like to refresh your knowledge and toolbox OR you just want things to go differently this time, a short refresher course could be right for you. These are highly personalized birthing classes; we discuss your individual concerns at length. You will receive a shortened version of the workbook. By appointment. Contact me for details.
Live Online Birthing Classes:
For the remainder of 2021, I am offering private online classes at a discounted rate of $120/session. We tailor the curriculum to fit your needs and birth plans. Reach out to schedule!
$$$ Access to knowledge, practices, and support for giving birth should not be dependent on your current financial state. If you want to commit to a class but are not currently in a position to fully invest in a class, please contact me and we'll work something out! I save at least one spot per class for couples who need alternate fee schedules.   
Register Here
Not ready to register? Go ahead and fill out this form to let me know your questions.