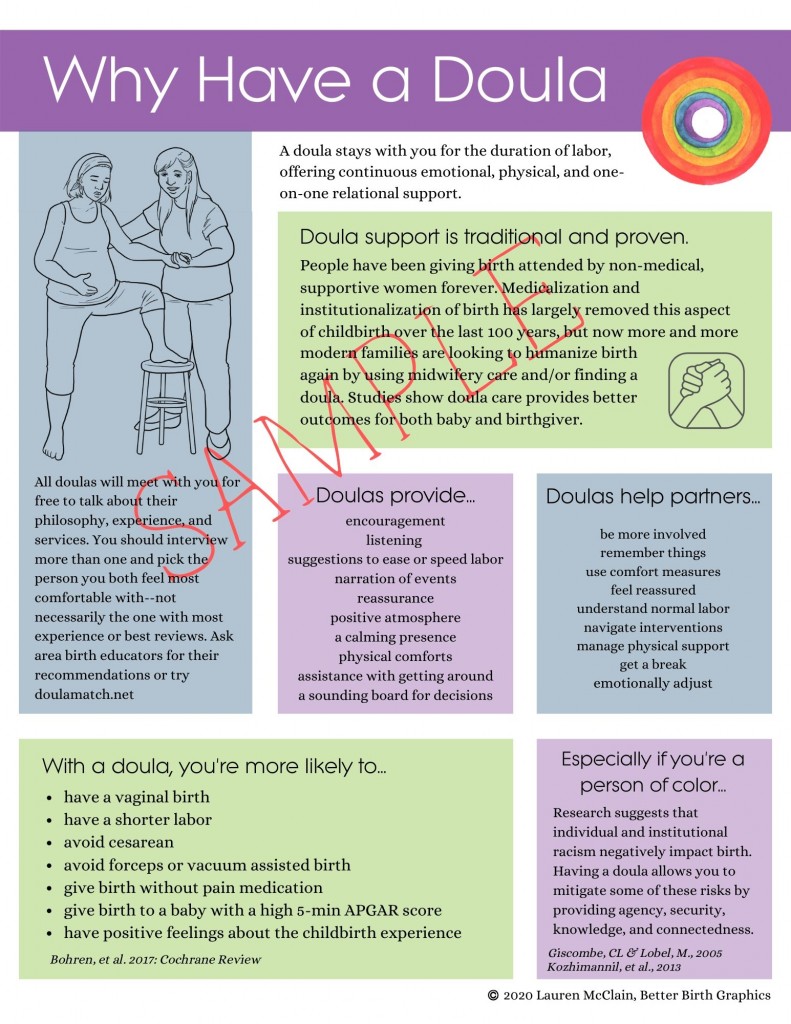 Everyone needs a doula. Show 'em why.
This printable is perfect for the doula interview packet.  Some people laminate it to show at the table or pass around a childbirth class.
What do doulas provide?
encouragement
listening
suggestions to ease or speed labor
narration of events
reassurance
positive atmosphere
a calming presence
physical comforts
a sounding board for decisions
Doulas help partners…
be more involved
remember things
use comfort measures
feel reassured
understand normal labor
navigate interventions
manage physical support
get a break
emotionally adjust
With a doula, you're more likely to…
have a vaginal birth
have a shorter labor
avoid cesarean
avoid forceps or vacuum assisted birth
give birth without pain medication
give birth to a baby with a higher 5-min APGAR
have positive feelings about the childbirth experience
For people of color, a doula is especially important…
The systemic and individual racism experienced by people of color has a weathering effect on their physiology. It also makes doing the vulnerable work of birth more vulnerable because the medical system was not built with women of color in mind. Because the maternal mortality and newborn complication rates are so much higher for black birthgivers, having the benefits of a doula is even more important.
Get this printable doula benefits sheet to share with your clients!